I bring you today's update on the
Sisterhood of the Traveling Pink Sweater
with a mixture of grief and smiles. I grieve because on Saturday I received the news that a friend and former colleague, younger than I am, succumbed to the miserable beast that is breast cancer. Like me, she was a fan of fancy footwear - I knew the moment I walked into Shelly's office and saw her shoe themed wall calendar that we'd be friends. She leaves big (and stylish) shoes to fill, and she will be missed.
I smile because, despite a few bumps in the road, the Pink Sweater seems to be picking up steam of late, traveling more quickly from one new sister to the next on its journey to raise both awareness and funds for the Pink Ribbon Connection. If you're new to the Sisterhood of the Traveling Pink Sweater, you can find out the history in my original post. Below are just a few members of our growing group!
Clockwise from top left: Madison Hanulak (photo courtesy of
Studio 505
); Leslie Bailey (photo courtesy of Michelle Pemberton, Indianapolis Star); Crystal Hammon; Jody DeFord; Megan Giannini; Maggie Connor
I also smile because the peppy pink cardigan has acquired its first male model. Check out this handsome radiologist at the St. Vincent Breast Center looking very GQ with the sweater tossed nonchalantly over one shoulder, his leg propped on its vintage pink traveling case!
In fact,
Domestically Single
's Nikki Capshaw, a Certified Medical Assistant at the Indianapolis based Breast Center, got her whole office in on the fun. Check out her perspective on the pink sweater (and more fun photos)
here
.
Adding yet another smile to today's post is Fourth Frog Blog creator Amy Megan, who shared the sweater with her friend Mary, a 42 year survivor! Mary (pictured below) reports triumphantly that her own experience with breast cancer was so long ago that she barely remembers having it. You can read more about Mary on Amy's blog, here. Mary's story is an important reminder that a diagnosis does not define us - it is but one facet of our lives.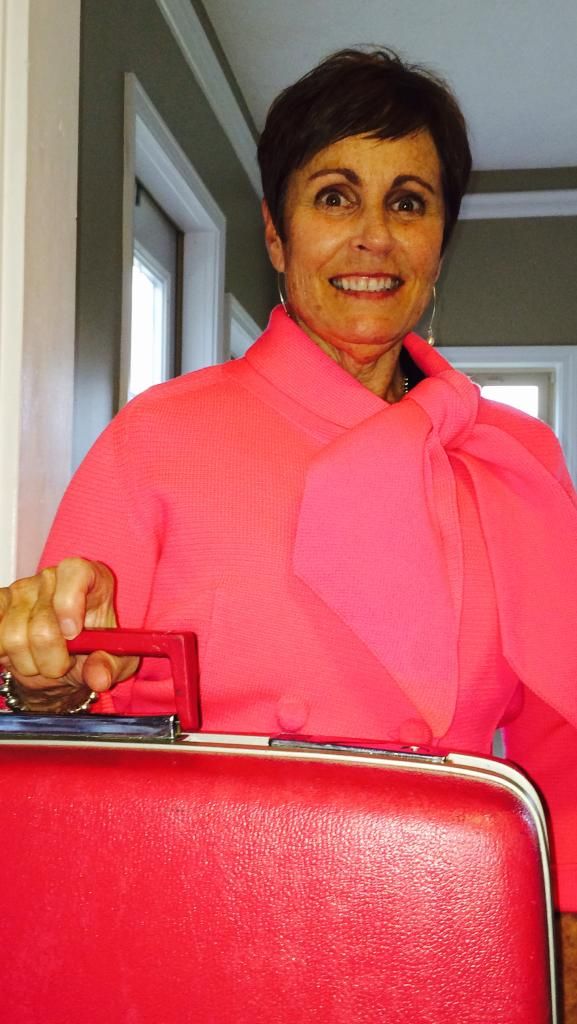 My friend Shelly also never let her diagnosis define who she was. Though her cancer story doesn't have Mary's happy ending, she nevertheless lived her life fully and triumphantly and with joy. It is in her honor that today I will make an additional donation to the Pink Ribbon Connection.
If someone in your life has been touched by breast cancer, consider making your own donation to the Pink Ribbon Connection in her honor. This organization assists
undeserved women in Central Indiana with emotional support, bras, wigs, prostheses and education to help them live life undefined by their diagnosis. Groups like the Pink Ribbon Connection give us all a reason to smile, even when we're grieving.
Want to follow the Pink Sweater on its t
ravels? Read about more of its recent adventures here (including a trip to the State Fair!) You can also look for regular updates from
Crystal Hammon
, my co-creator of our pink sweater project, over at her blog
Dressed Her Days Vintage
. We look forward to introducing a new "Sweater Sister" very soon!
Fashion is what you buy; Style is what you do with it!